Magdalena Jurczyk and Jan Kucz, students of creative media, game design and special effects, and Jagoda Piluch, a lecturer from the DSW University of Lower Silesia, invite you to a virtual show of their artistic work.
 
From 16 May to 23 May 2023, Week4Work invites you to an unusual event prepared by students of the DSW University of Lower Silesia. They invite you to an unusual event, which is a virtual exhibition of their works in the VALL GALLERY. It will be possible to view them using VR glasses. 
Date: 11 - 23 May
Venue: DSW University of Lower Silesia., building at 55 Strzegomska Street (lobby)
Magdalena Jurczyk - 2nd year Creative Media student, specialising in 3D Animation and Special Effects for Film and Games. She is interested in concept art, especially character design. As a hobby she is involved in costume design (her costume won second place in the competition for her own design at Pyrkon 2022). She is also the author of the graphic design for the Polish translation and study of the historical fencing treatise 'La Scherma' by Francesco Fernando Alfieri. She is a coach for historical fencing at competitions. She not only actively competes but also teaches children and beginners. She is currently in the process of becoming a qualified sports teacher at AWF in Katowice. At every possible opportunity, she tries to combine her passion with science, which is why you can find more or less obvious references to fencing in her projects.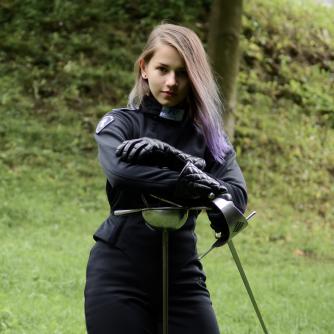 Jan Kucz - 2nd year student of creative media: game design, animation, special effects, University of Lower Silesia DSW. Creator of numerous animations and visualisations for his own music pieces, as well as many graphics. Would like to develop games in the genre - horror. His special interests are: independent games, psychology of horror and fear. Inspirations: Aesthetics Masahiro Ito and Beksinski - visual Akira Yamaoka and Mick Gordon - musical Hideo Kojima - story. Aesthetics: Team Silent, Red Barrels, Remedy.